"Do robots have emotions?" is the first performance choreographed in Greece by a person with learning disabilities and autism. Since its first presentation at the Young Choreographers Festival 2022, ONC9 at Onassis Stegi, as part of the Europe Beyond Access programme and with liminal's support on the production execution, Robots has travelled to festivals in Greece and abroad, including Serbia and Cyprus! And they don't stop there…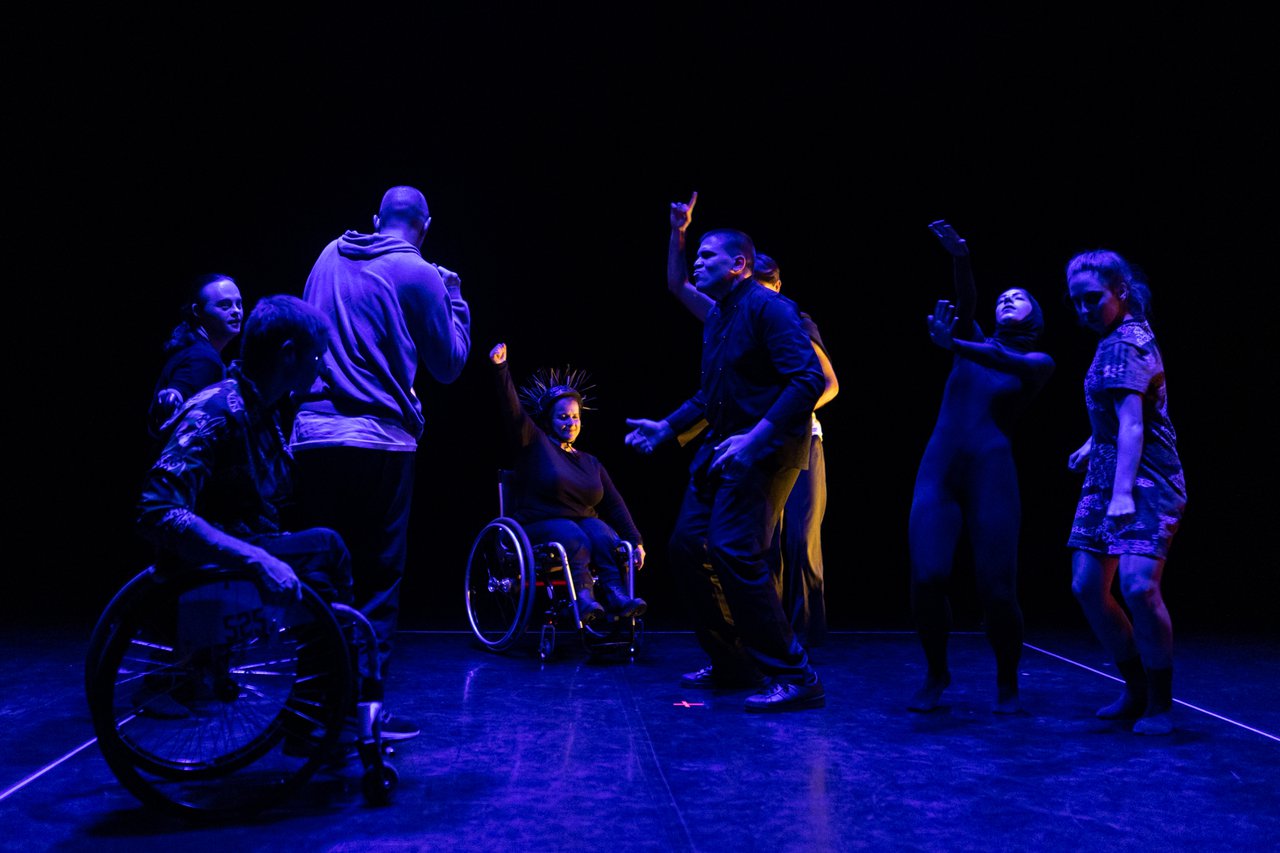 Akropoditi DanceFest
This summer, Robots are packing their bags for the 10th Akropoditi DanceFest, in Syros! The festival hosts artists from Greece and abroad, combining theoretical and practical workshops with a diverse content. On July 19, 2023 at the Evanthia Kairi Theatre, Manolis Saridakis will share with the Syros audience his performance "Do robots have feelings?" for which he notes:
"The performance you will see is about robots. I chose this theme because sometimes I feel like a robot myself. I did an interview and did research to find out about robots. How do they move and how do they help people? I had some questions: Do robots have mechanical hearts? Do robots have a brain? Do robots do jobs without being bored? Do robots do what they want or what humans want? I hope you will feel happy when you see my performance."
The performance will be followed by an interactive game-presentation about dance and disability in Greece and abroad. The performers themselves will share personal stories, images and interesting facts with the audience tracing the history, stakes and importance of accessibility of people with disabilities in dance.
Who can be a dancer? Who can become a choreographer? What does accessibility in art mean? How should dance itself change through its encounter with disability?
The evening will conclude with an open discussion where the audience will have the opportunity to ask questions about the performance and the topics of the presentation.
Credits
Idea: Manolis Saridakis
Choreography: Manolis Saridakis, in collaboration with the dancers
Dancers: Olympia Antonena, Irini Kourouvanis, Christos Christakopoulos, Manolis Saridakis
Dramatization – Mentoring: Mendi Mega
Costumes: Marilena Kalaitzantonaki
Lighting: Konstantinos Bethanis
Make-up: Alexandra Rentzou
Original music: Christos Christakopoulos
The music track "Techno Eskalation!!!" by Max Minimal can also be heard.
Production execution: Christos Papamichael – liminal
Production Organization, Head of Artistic Activities of the Europe Beyond Access Programme: Christina Liata – Onassis Stegi
Coordination of European Programmes: Dora Vougiouka – Onassis Stegi
Dora Ovias, Director of the Foundation of the Hellenic Foundation for the Promotion of Culture: Niki Saridaki, Fotini Gioti, Yannis Makris, Manolis Andriotakis, Rodia Vombolou
Production: Onassis Stegi of the Onassis Foundation
The tour is supported by the Onassis Foundation's "Extroversion" programme.

Manolis Saridakis
Manolis Saridakis lives in Athens, is 35 years old, and works in dance, theater, and music. He received his training as a contemporary dancer and choreographer as part of Onassis Stegi's iDance, Europe Beyond Access, and Unlimited Access programs, held both in Greece and beyond, alongside contemporary and African dance workshops given by the Liminal arts organization. Manolis has appeared in Onassis Stegi productions ("Sweet Abyss", "Deep Fusion Butterfly Band", and more) and in a large number of theatrical performances staged by ARTOGETHER (Art of People With and Without Disabilities). He starred in the documentary film "I Am a Dancer" directed by Stavros Petropoulos, and produced by Onassis Stegi. He is studying découpage at the Theotokos Foundation, music at the National Conservatory of Athens, and Qigong at the "Spring of the Young Forest" School for Martial Arts.
Useful information
Day: 19th of July 2023
Time: 21:00
Location: Evanthia Kairi Theater, Agiou Mina, Lazaretta
Duration: 20′
An interactive game and an open discussion with the audience will follow.
More information about the participation of the show "Do robots have emotions?" in the 10th Akropoditi DanceFest can be found at this link.
Communication
tel.: +30 22810-80690 / +30 6944771449 / 6907036785
mail: akropoditidancefest@gmail.com