The 2nd round of the Theater Workshop "What do you do?" within the framework of the M.A.P. Program move action people – sharing values, mapping practices with Lyto Triantafyllidou, is coming to an end. On Tuesday, April 25 at 19:00, meet us at Choros for an open presentation of the artists' texts!
Writing Workshop
The Writing Workshop has been the second part of the Theater Workshop "What do you do?" with Lyto Triantafyllidou and lasted 2 months. During the Writing Workshop, participants with and without disabilities were asked to create a theater play. Working on the structure and development of individual scenes, the participants experimented on their writing skills while offering creative feedback on the work of their peers. At the same time, they focused on the issues of accessibility and inclusion both in their writing content and as a dramaturgical tool.
Open Presentation
The program will be concluded with an open presentation by actors of excerpts and texts created in the Writing Workshop, which will take place on Tuesday, April 25 at 19:00, at Choros at Plateia Theatrou. The presentation will be followed by an open discussion with the creators. We will be very happy to share with you the course of the Workshop, all the enthusiasm and the challenges along the way, as well as what we worked on and what hear your thoughts and impressions.
The event will have Interpretation in the Greek Sign Language.
Useful information
What: Open presentation of the texts created in the Writing Workshop with Lyto Triantafyllidou and discussion with the audience
When: Tuesday, April 25, 2023, at 7:00 p.m.
Where: Choros, 6 Plateia Theatrou 10552, Athens
Duration: 90 minutes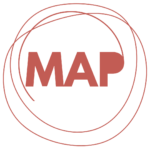 The workshop is part of MAP – Moving Action People with the support from the "Erasmus+ KA210-VET programme – Small scale partnerships in vocational education and training".