The performance "Ja, aber…" – "Yes, but…" by the PUNKT* group with the support of liminal was presented at the Theater Aufbau Kreuzberg (tak) in Berlin on the 25th of February on the topic of disability and the taboos surrounding it through a process of searching for new forms of storytelling.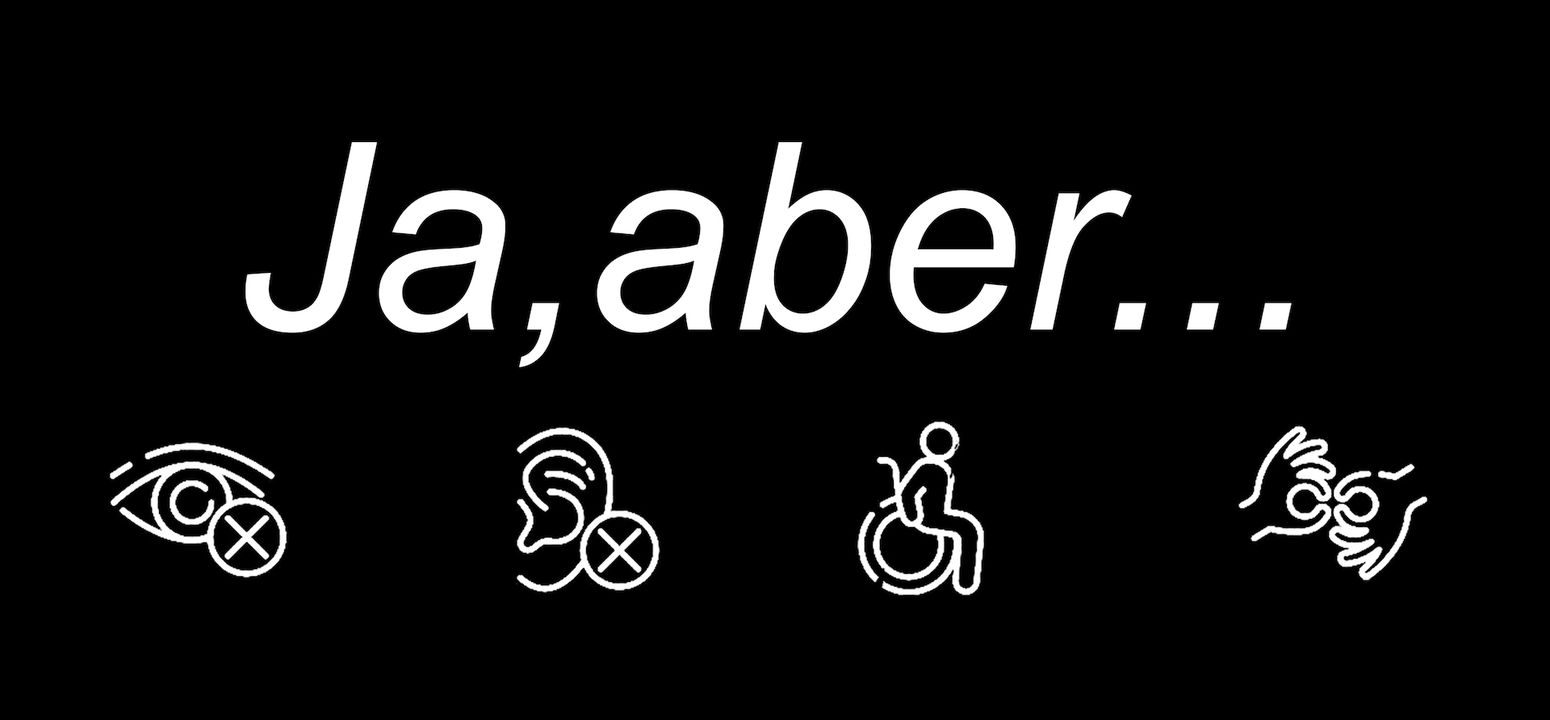 About Ja, aber…
How do we talk about disability?
When do we feel uncomfortable?
When do we get angry?
How do we respond to looks of pity, heroism and exoticism towards people with disabilities?
How do we make theatre with all these questions?
Using as raw material anonymous opinions and questions collected through questionnaires in three different languages, the content of a performance was formed that speaks openly and with humour about disability and at the same time seeks a new identity for theatrical narrative itself.
From the note by the director, Elena Sokratous, for "Ja, aber…":

"Theatre as encounter and exchange.
As an experiment of coexistence and interaction between people, theatrical methods and accessibility tools.
A process of searching for new forms of narratives and dramaturgies.
Our performance dramaturgically elaborates ways of accessibility through Greek and German supertitles and elements of audio description.
With Christos Papamichael as Creative Accessibility Director and performer, the performance "Ja, aber…" managed to integrate creative accessibility elements with Greek and German surtitles as well as elements of audio description.
The performance was followed by a discussion with the audience, moderated by the Association of Greek Scientists Berlin-Brandenburg.
Credits
Director: Elena Sokratous
Actors: Michael Fotopoulos, Petros Zavrakas, Christos Papamichael, Stylianos Benetos, Eleni Efthymiou
Narrator: Alexandros Koch
Director of Creative Accessibility: Christos Papamichael
Director's Assistants: Stylianos Benetos, Eleni Efthymiou
Photos: Panagiotis Paschalidis.
Supertitle handling: Irini Zorzou
Thanks to Rosa Eichacker, Maria Mena and Andreas Economou
More info: https://tak-berlin.de/node/1369
The performance "Ja, aber…" was sponsored by the Bezirkes Friedrichshain-Kreuzberg von Berlin and supported by: liminal, Theater Aufbau Kreuzberg, To Spiti, Stiftung Kommunikationsaufbau.