On the occasion of Dr. Joel Snyder's visit to Athens.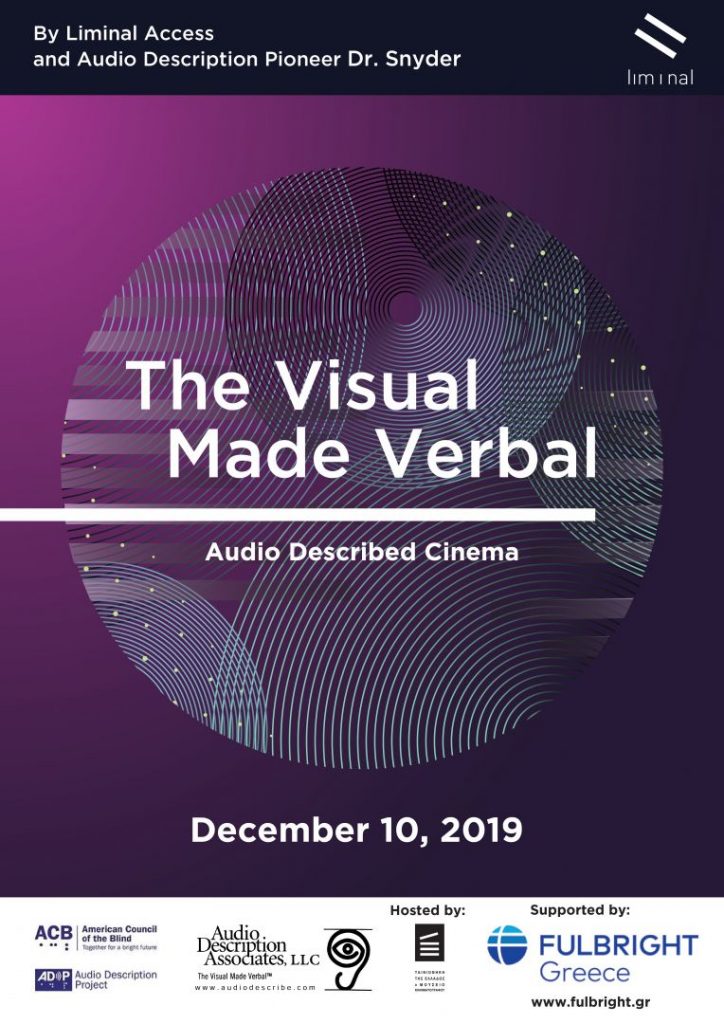 Audio described movie clips, presentation and open discussion. 
What is Audio Description? 

Which is the Target Audience? 

How does it apply to the Cinema? 
Pioneer Audio Describer Dr. Joel Snyder, in the framework of the project "The Visual Made Verbal", by Liminal Access, brings us in touch with the world of Audio Description and the ways in which we can make the Cinema accessible to people with vision impairment or low vision.
Dr. Snyder visits Athens as a Fulbright Specialist with the support of the Fulbright Foundation in Greece.
Tuesday, December 10, 2019.

Time: 19:00 – 22:00. 

Location: Film Archive of Greece, Iera Odos 48 & Alexander the Great 134-136, 104 35 Kerameikos Metro Station, Athens. 

Working Language: English without translation
Free Entrance
The Visual Made Verbal
According to official sources, approximately 50,000 to 55,000 blind or visually impaired live in Greece today, being in their majority excluded from cultural and social occasions.
Audio Description provides the means so as this population group can have full and equal participation in cultural life, as well as access to every cultural event. In brief, it allows people with a vision disability to properly live as first-class citizens, having the ability to contribute to, participate in, or equally enjoy the artistic treasures this society offers. Through the use of inclusive, vibrant, and inventive words, Audio Description provides an adaptation of images into phrases: the visual turns verbal, aural, and oral. This way, the images of performing arts become accessible to the blind and the visually impaired.
Equal access presents an opportunity for augmenting and approaching a new audience that wishes to attend cultural events.
Audio Description offers blind audience members the freedom to attend an event without the need to rely on others to tell them "what's going on". For the last couple of years in Greece, different performances, films, and events were presented with Audio Description. The feedback provided by the Greek blind population in response to these events has shown that there is an important necessity for equal access and participation in cultural events.
"The Visual Made Verbal" program with a central focus on Dr. Snyder, who visits Athens as a Fulbright Specialist with the support of the Fulbright Foundation in Greece, aims to strengthen the field of Audio Description and enhance the multilevel effort being made to consolidate and develop the service in our country.
The program of his visit includes open events and lectures for professionals and the general public, educational seminars and workshops as well as meetings with agencies, organizations, and individuals involved in the field of audiovisual translation.
JOEL SNYDER, Ph.D.
Dr. Joel Snyder is known internationally as one of the world's first "audio describers," a pioneer in the field of Audio Description, a translation of visual images to vivid language for the benefit, primarily, of PEOPLE who are blind or have a vision impairment. Since 1981, he has introduced audio description techniques in over 40 states and 62 countries and has made hundreds of live events, media projects and museums accessible.
The American Council of the Blind published Dr. Snyder's book, "The Visual Made Verbal – A Comprehensive Training Manual and Guide to the History and Applications of Audio Description", now available as an audio book voiced by Dr. Snyder, in screen reader accessible formats, and in English, Polish, Russian and Portuguese. Dr. Snyder is the President of Audio Description Associates, LLC and he serves as the Director of the Audio Description Project of the American Council of the Blind. Dr. Snyder is a member of Actors' Equity Association and AFTRA-SAG and a 20-year veteran of work as a director and arts specialist at the National Endowment for the Arts. His PhD in audiovisual translation/audio description is from the Universitat Autònoma de Barcelona (SP). 
Fulbright Greece provides scholarships to Greek and U.S. citizens and serves as the official center of information about studying in the United States. Fulbright provides scholarships to students, scholars, artists, and teachers to study, teach and conduct research helping to build mutual understanding and find solutions to critical international concerns. Since its inception in 1948, Fulbright Greece has awarded over 5,500 scholarships creating a vibrant, dynamic, diverse and interconnected network of alumni. 
For more information on the Fulbright Program in Greece see www.fulbright.gr.